Production
NEW! Nov 2016
Matsumoku, 1980 -new information confirms this model was in production from 1980, not 1981 as previously thought. (see below)
Description
There have been at least three different versions of this model:
(1980)
NEW! Nov 2016
Thanks to Forum member criton29 we now know that this model went into production in 1980. The basic design appears unchanged from the 1981 description.
click to enlarge
Version 1 (1981)
Thanks to Jon (Tele) for pointing this one out.
Serial number is on the neck plate, does not have through-body stringing, script logo on the headstock.
Specs (from the 1981 catalogue)
body: Laminated Ash,  Maple and Walnut
neck: 3-ply Maple
fingerboard: Rosewood
24.75 inch scale
22 frets
two Magnet-F450 humbuckers
one volume and two tone controls
3-way pickup selector and coil tap switch
brass knobs, nut and bridge (With barrel shaped saddles similar to the saddles on Thunder basses)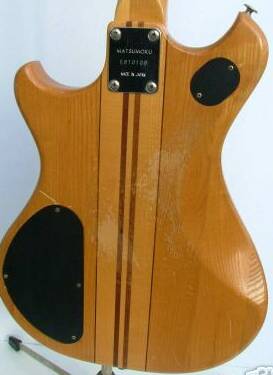 Version 2 (1982-3)
Specs (as shown in the 1982/3 catalogue)
script logo on the headstock
Serial number on the neckplate
through-body stringing
brass knobs, nut and bridge (With rear string retainer, different saddles to the earlier version)
body: laminated Ash,  Maple and Walnut
neck : 3-ply Maple
fingerboard: Rosewood
24.75 inch scale
22 frets
two HF450 humbuckers
one volume and two tone controls
3-way pickup selector and coil tap switch
available in several different finishes: light oak, or  light oak centre with black or red 'wings'
Update March 2010: Thanks to forum member Bowenjaybee for pictures of this natural finish 1982 (click to enlarge):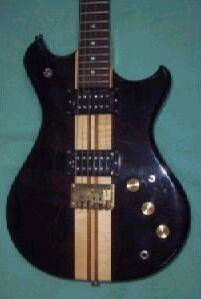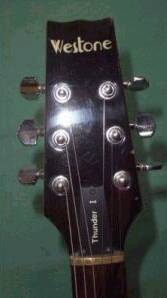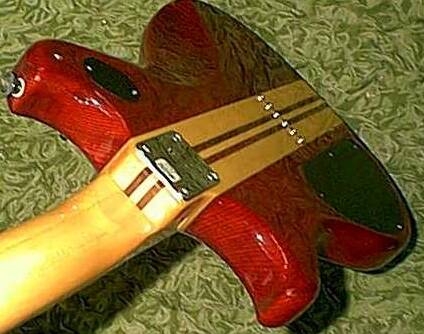 Version 3 (1983 onwards)
Specs (as shown in the 1983 catalogue)
W 'Bird' logo on headstock
serial number on the back of the headstock
through-body stringing
body: Laminated Ash,  Maple and Walnut  (Solid Maple if the finish is red or black)
neck: 3-ply Maple
fingerboard: Rosewood
24.75 inch scale
22 frets
two Hammer I humbuckers
one volume and two tone controls
3-way pickup selector and coil tap switch
available in  light oak,  red or black