Production
Matsumoku 

to Jan 1987, 1981-1988
Description
There have been at least three versions of this model:
Version 1 (1981-2)
Specs (as shown in the 1981 catalogue)
body: Canadian Ash, Rock Maple and Walnut
set neck (similar to that on the Rainbow I and II) 5-piece laminate of Ash, Maple and Walnut
fingerboard: Rosewood
24.75 inch scale
22 frets
two Magnet-530 pickups
3-way selector switch
master volume and two tone controls
phase and coil tap switches
steel tailpiece and bridge with brass saddles
brass nut
available in Sunset Red and Navy Blue with a Light Oak centre stripe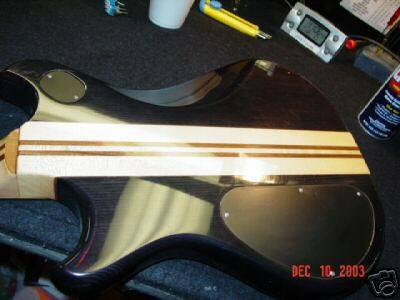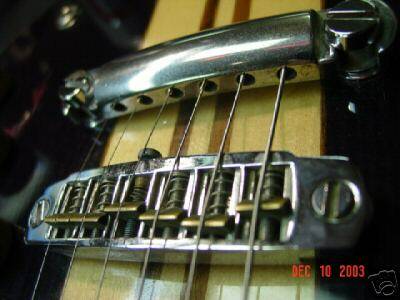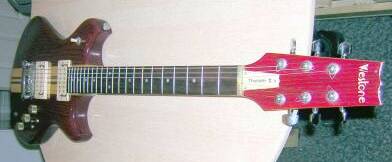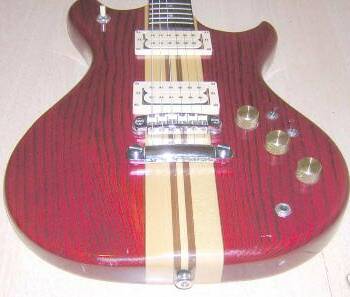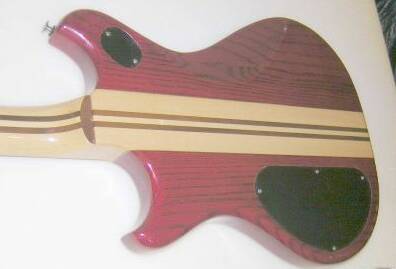 Update Dec 25'2013

The following unusual Thunder II is courtesy of Forum member rufio:
This is an otherwise standard 1981 Thunder II. What makes it unusual is the additional branding "Oakland by" Westone. The current owner bought the guitar in 1985 without knowing the origin. It is definitely a Thunder II in Navy blue as listed in the 1981 Westone catalog and nothing else is known about it. (The previous owner had moved the button strap to the top of the body for reasons unknown)
Click to enlarge:

Version 2 (1982-3)
Specs (as shown in the 1982/3 catalogue)
body: Canadian Ash and hard Maple
neck: Heelless set, 3 ply Hard Maple
fingerboard: Rosewood
brass nut
two HF530C pickups
master volume and two PEQ tone controls
3-way pickup switch
phase switch
Swiftlok tailpiece
'long travel' steel bridge with steel saddles
available in Midnight Blue and Pearl White
script logo on headstock
New! December 2017

:  courtesy Forum member

gittarasaurus (click to enlarge):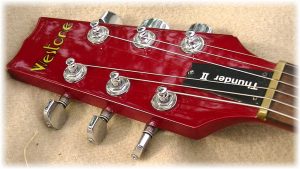 New! December 2017

: Courtesy Forum member westbone (click to enlarge):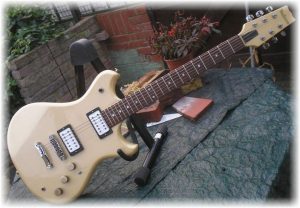 New! December 2017:

Courtesy Forum member enaich (click to enlarge):
 Version 3 (1983-7)
Specs (as shown in the 1983 catalogue)
body: solid Maple, 3-ply Maple heelless set
fingerboard: Rosewood
bone nut
24.75 inch scale
22 frets
two Super Twin I humbuckers
controls: master volume and 2 PEQ tone
phase switch
3-way pickup selector
available in Pearl White or Midnight Blue
W 'Bird' logo on headstock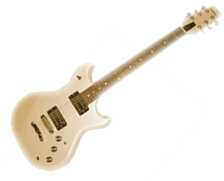 Version 4 (1988 – ?)
The Thunder II is shown as still available in the 1988 UK pricelist.
This version was made in Korea

Specs
Unlike the Matsumoku made Japanese versions, this one has a bolt on neck
H/S/S pickups controlled by 3 mini toggle switches
single volume and tone controls
Bendmaster Deluxe trem system
This version was also available in red, but red ones seem to suffer very badly from the finish peeling away from the body.
Thanks to Mark Bowers  for the pictures below