Production
Matsumoku, 1985-6
Description
First appeared in the Jan 1985 US price list at $499.50 including gig bag, (Probably introduced earlier, a known serial number indicates that it was made in 1984).
In the August 1986 pricelist the price had increased to $529.50 and at this time it was only available in black.
Does not appear in the later pricelists
Specs
Two pickups (Magnaflux RB)
two volume and one tone control
32.25 inch scale
24 frets
Headless neck with top mounted string clamp so ordinary strings can be used instead of double ball end strings
Hard Maple body and neck
Rosewood fingerboard
graphite nut
First appearance of the 'stepped' body design
Available in Satin Black, Snow White or Red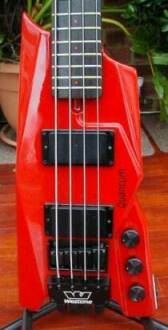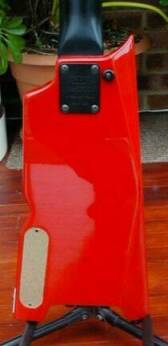 These were originally supplied with a gig bag, but it's unusual to come across one that still has it.