Production
With the exception of  numbers 3,  6, 8 and 10 all of these guitars seem to pre-date the 1981 launch of Westone guitars by Matsumoku *

.
None of them appear in any of the catalogues
Logo Clues
If the logo is in italic script, it is not a Matsumoku instrument.
This logo appeared on guitars that were made in Italy 

.

This logo appeared on an old banjo that was apparently made in Germany

(G.D.R)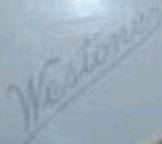 I N D E X :
Unknown Model 1
This guitar is a Matsumoku

model.
The serial nos. on the two following examples make them 1980 builds. The general shape, and the inlays, suggest that this could be a precursor of the Thunder range.
Update:

November 2019
Several Forum members have recently shown additional copies of this guitar so it was definitely a production run in 1980.
Please visit the Westone Forums for a detailed discussion and more pictures, including detailed pictures of the active boost circuit:
http://westone.forumotion.com/t6019-westone-custom-guitar#62051
This guitar was also produced under the Westminster label. More information here:
http://westone.forumotion.com/t6770-unknown-westone-of-the-website
New!

July 2016
This example appeared on the German eBay website. It is in beautiful condition and looks to be original except for the head stock face which is suspect. It appears to have been refinished in black and a non standard Westone logo added. This logotype design has not been seen historically and is not likely to be original. It is probably a custom "vanity" modification. In all other respects the guitar is original and almost certainly a Matsumoku made instrument.
(click to enlarge)

New! also July 2016

This second example of Unknown model 1, courtesy of recently joined Forum member Olleoc.
This would confirm that the black faced example above was a post Mats modification. It's hard to understand why anyone would cover up a mother of pearl inlaid logo with black paint.
(click to enlarge)
New! January 2017:

Courtesy of Forum member honeyimhome
This one-owner guitar was bought in Germany and is in gorgeous condition. What makes it obviously different is the dark finish, perhaps an indication that Westone was seriously about to promote this model. Serial number identifies it as a 1980 build, the same as the others on this page.
(click to enlarge)
Archive Pictures:


Unknown model 2
This guitar may well be a Matsumoku 

model.
It pre-dates the known models (1981 on) and has the same logo as the Matsumoku made acoustic guitars.
Thanks to Fernando Freitez for pointing this out

There are some very similarly shaped guitars, also branded as Westone (Different logo) which are definitely not Matsumoku instruments. Below are some more versions of this "unknown" (probably Italian) guitar.
Thanks to Dick Zoeteweij for this picture: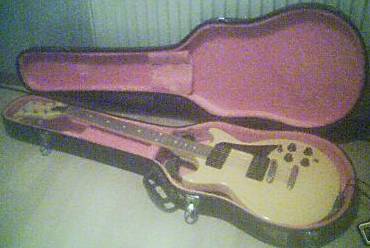 Thanks to Andrew Bladen for these pictures (click to enlarge) Blue switch tip, and possibly the knobs, are not original:

This "corpse" example showed up on eBay Germany in October 2013 (click to enlarge):



Unknown model 3
Identified! Update July 2007:
This is the WE1000, introduced in 1997 as part of FCNs 

attempt to revive the Westone brand.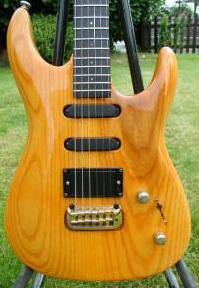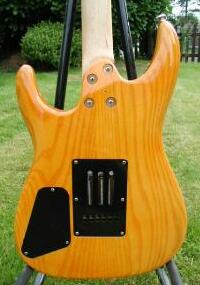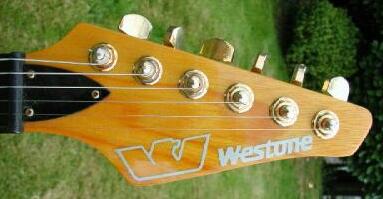 Unknown Model 4
*
New Sept 2017:

Thanks to forum member joe_martin79 who has owned one of the the following models since new, and it is indeed pre-Mats circa 1967-69.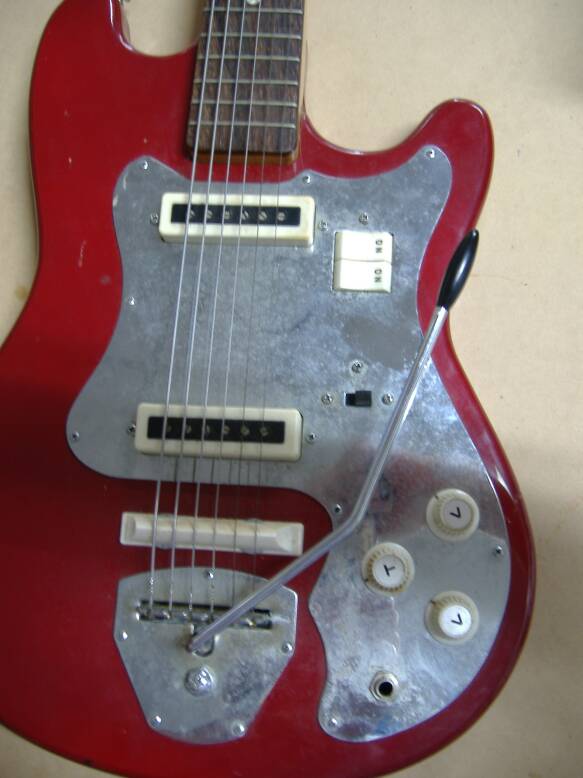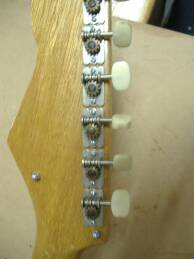 Stylistically there are similarities with the guitar shown below, played by Mark White of ABC – unfortunately the article doesn't say what it is.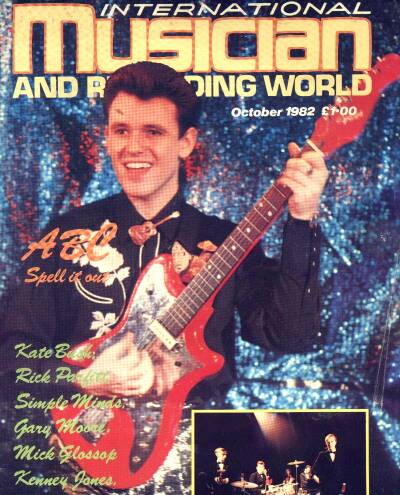 New! February 2017
This single pickup version of Unknown Model #4 was discovered on eBay. The damaged bottom suggests that the construction is hollow?
(click to enlarge image)

Unknown Model 5
Identified? Update March 2016:
A new model, King II, was recently discovered and it bears a striking resemblance to this one.
The King II we have is definitely a Matsumoku, made in 1985. It's a Maple version with a 5 piece laminated neck and appears to be a more expensive build, but the overall dimensions and configuration appear to be the same.
The truss rod cover on the example below is covered over by what seems to be a stick on plate with the owner's intials. Underneath it could very well be a King II or even a King I?
---
The logo on this one is as the logo on unknown model no. 1, which is probably a Matsumoku 

guitar.
The same logo is featured on the acoustic guitars which were made by Matsumoku in the 1970s.
The model name is '501' and it was bought in December 1980.
The guitar has been examined by a luthier and the construction is apparently:
neck: 3 piece Maple laminate
back and sides: Maple
top: Spruce
fingerboard and bridge: Ebony
synthetic mother-of-pearl inlays
Thanks to Fernando Freitez for the pictures and detailed information


Unknown model 6
Indentified! Update July 2007:
This is one of the Korean  models introduced in 1997 as part of FCN's  attempt to revive the Westone brand.

Thanks to ebay member ashton1015 for the picture

Unknown model 7
This one qualifies as 'unknown' as it doesn't appear in any of the catalogues and seems to pre-date the official launch of the Matsumoku Westone line in 1981, but it is definitely a Matsumoku

guitar, and an obvious ancestor of the Rainbow I.The label in the f-hole says it was made by Matsumoku Industrial Company Ltd, and the logo is the same as on the early acoustics.The label also gives the model number as  A1511 and serial number as 7910033, which implies it was made in 1979 (Both numbers are handwritten).
The serial on the neck plate does not correspond with the serial on the guitar, but the 'steel adjustable neck' inscription was common on Japanese guitars of the 1970s and the plate may have been outsourced.
Thanks to Chris Wilkie for the pictures and info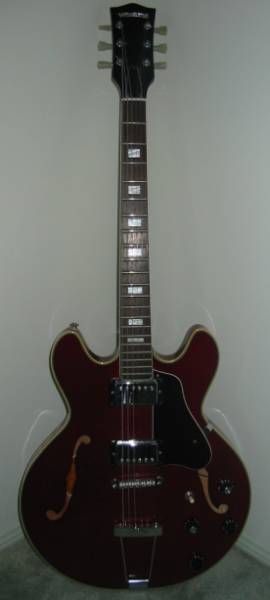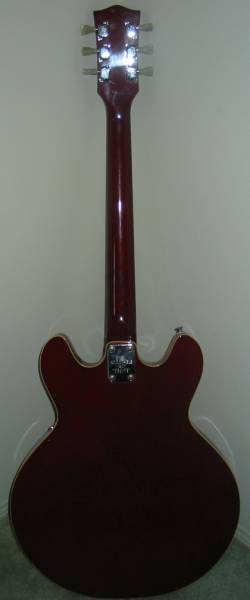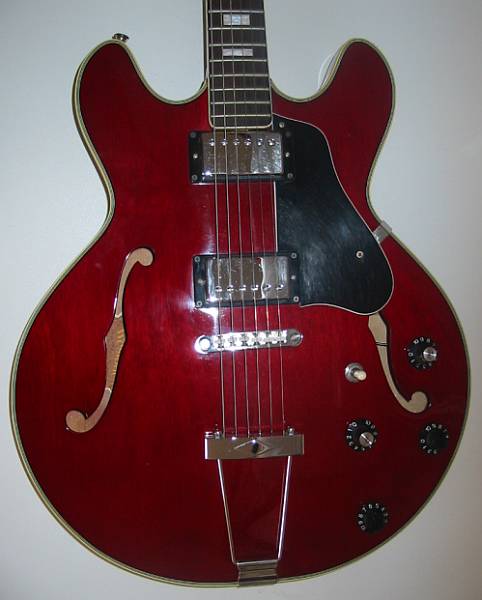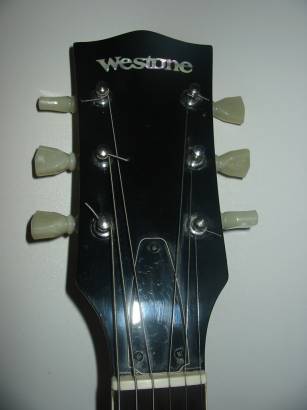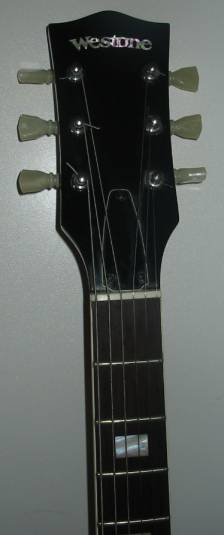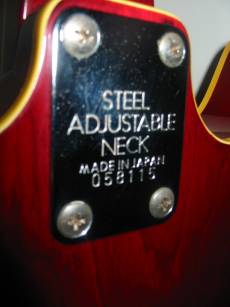 Unknown Model 8
Example 1
Purchased in 1984 (Date of manufacture not known, there is no serial number) and sold a prototype and there were only about 10 made.
Looking at the top of the body, the natural conclusion is that it's a Prestige 250 until you see the rest of it, especially the headstock which is the same style as the Concord series. It may be possible that Matsumoku

were considering adding a 'Prestige' model to the Concord range.
Specs
neck: bolt-on
no model name
one volume and one tone
a Thunder style brass bridge
gold hardware
brass nut
mini toggle switch for active  on/off
-Paduak style boost, not active tone controls, this may actually be a coil tap switch, see the black one below
only 2 knobs
Thanks to David Smith for the pictures and info on this one: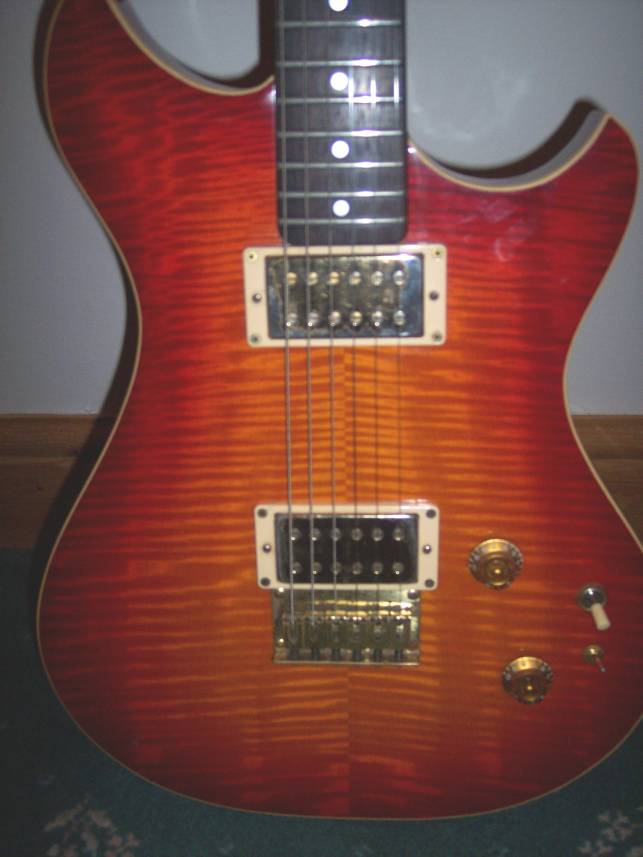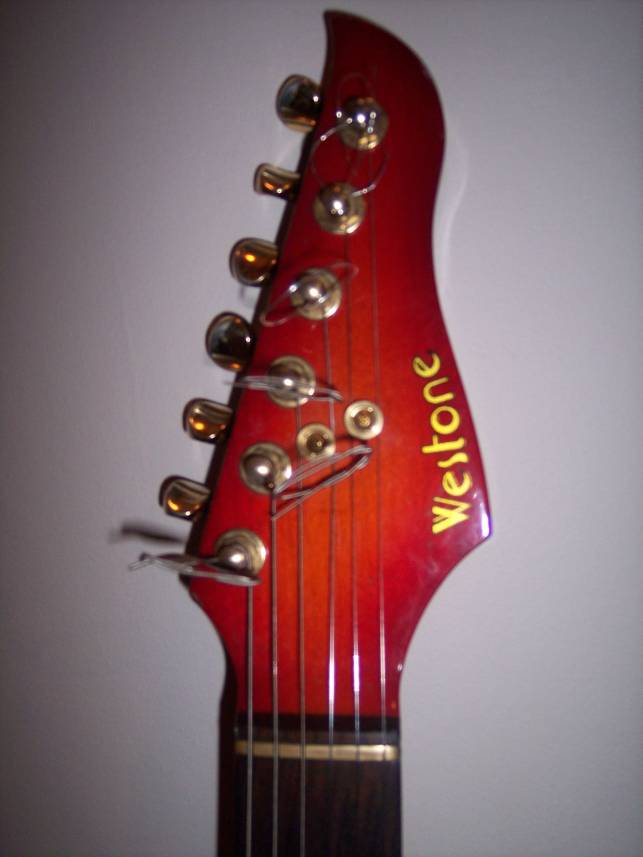 This very similar guitar appeared on Ebay (UK) in December 2009.
The headstock logo and neck plate design would seem to date this guitar to pre-1984.

Example 2
There are 3 differences between this next one and the one above:
the finish (Black on this one)
beveled  edges on the headstock which the one above does not have
chrome hardware
Additional Specs
21 frets
two humbuckers
single volume and tone controls
pickup selector switch
coil tap switch.
Thanks to the seller ingenue1982 for these photos: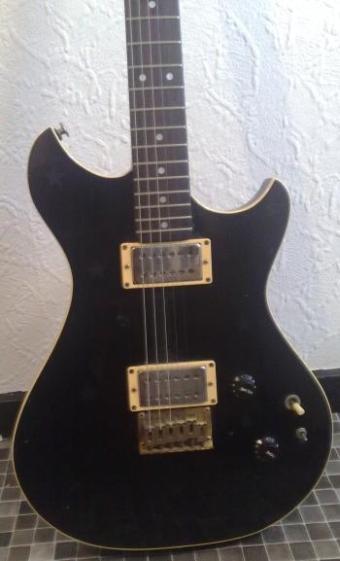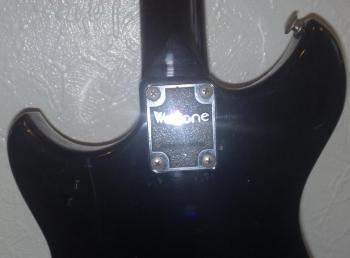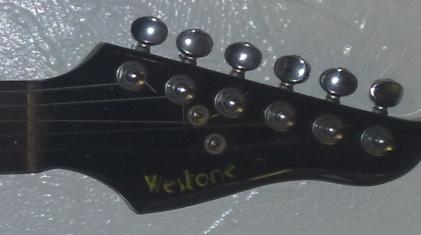 Unknown Model 9
Example 1
This guitar was bought in 1979.
The logo on the headstock matches the logo on the Matsumoku acoustics, so it is probably a Matsumoku 

guitar.
The patent referred to on the last page of the 1983 catalogue is not in fact for the heelless neck join design. It's for the ornamental design of a guitar shaped much like a Les Paul. The patent was filed in August 1978.
Thanks to Alex Roca for the pictures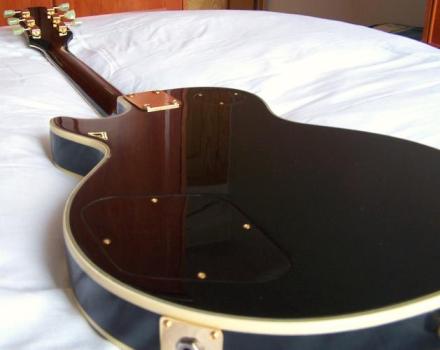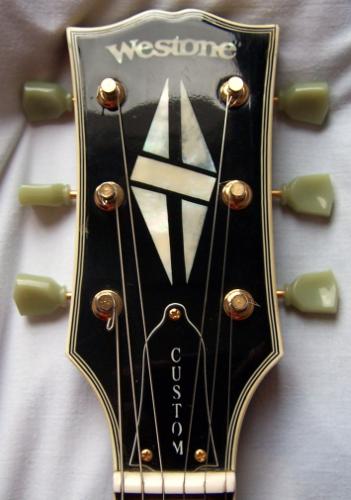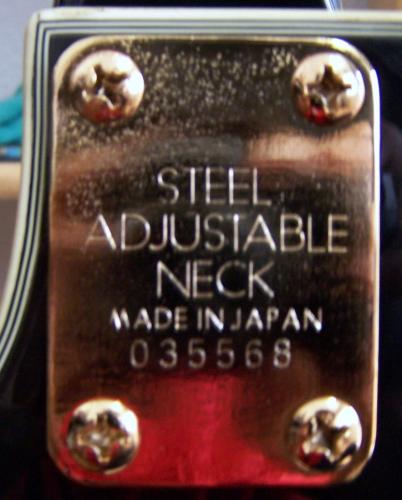 New! Jan 2018
Thanks to Forum member meadows who spotted this head stock inlay variation of Example 1.
In all other respects it appears to be the same.
Both were manufactured in the same year according to the neck plate serial numbers:
Example 2
It seems there was more than one Les Paul style guitar.
This one was bought second-hand in Madrid in 1982.
Thanks to jose martorell for the pictures




Unknown Model 10
(Reversed Dana/Lynch Corsair?)
October 2021 Update:
A guitar of this very nature appeared to be sold by Ars Musica – der Musikladen in München, Germany on Reverb this month:
"E-Gitarre Westone neu aus Ladenauflösung, nie gespielt, Folie noch auf pickups und Abdeckungen kl. Lackschaden siehe Foto 80er Jahre seltenes Modell ? unbekannt, für Hinweise sind wir dankbar Floyd Rose Tremolo
Sie können die Instrumente im Laden in München in der Lindwurmstraße 201 gerne ausprobieren und anspielen. Wir haben Di. bis Fr. von 10-19 Uhr und Sa von 10-14 Uhr geöffnet. Wir haben ca. weitere 1000 gebrauchte Musikinstrumente auf Lager und freuen uns auf Ihren Besuch. Bei Kauf im Laden im München erhalten Sie 10% Rabatt. Shipping worldwide Please contact us, we try to find the best way! ars musica – Münchens spannendster und schönster Laden für gebrauchte Instrumente, Vintage-Gitarren, Zubehör und seltene Schätzchen ab ca. 1800 Fachkundige Beratung An- und Verkauf Verleih Restaurierung und Reparaturen Werteinschätzung Sachverständigengutachten von zertifiziertem Gutacher nach DIN 17010″ was the German listing detail. "
Translated by Google to:
"Electric guitar Westone new from shop resolution, never played, slide still on pickups and covers small. Paint damage see photo 80s rare model? unknown, we are grateful for hints Floyd Rose Tremolo You are welcome to try out and play the instruments in the shop in Munich at Lindwurmstraße 201. We are open Tuesday to Friday from 10 a.m. to 7 p.m. and Saturday from 10 a.m. to 2 p.m. We have about another 1000 used musical instruments in stock and look forward to your visit. If you buy in the store in Munich, you will receive a 10% discount. Shipping worldwide Please contact us, we try to find the best way! ars musica – Munich's most exciting and beautiful shop for used instruments, vintage guitars, accessories and rare treasures from around 1800 Expert advice Buying and selling Rental Restoration and repairs Valuation appraisal Expert appraisal from a certified appraiser in accordance with DIN 17010"
Research by one of our many forum members has dug up the follow nugget of information:
"Tom Presley said it was a transitional model when manufacturing moved from Matsumoku in Japan to Cory & Saehan in Korea.  This explains why it uses a headstock similar to a 'Dana' style while it's body resembled a Steve Lynch signature Corsair.
However, it's not a Steve Lynch signature. Tom's summary: 'This was a standard production guitar by Cort in Korea with assistance from Saint Louis Music & Toshi.' "
So… A half breed between A Steve Lynch Corsair and a Reversed Dana. No data is available as to whether it had a specific model name and/or number. If you believe you know what it is, please get in contact!
Update ends.
—————————
This seems to be a  close relative of the
Steve Lynch signature Corsair

but there are a few differences.
The body colour, contours,  binding  and Kahler Spyder trem are the same as on the signature Corsair, but the pickups are H/H instead of H/S/S with a single 3 way switch instead of separate switches for each pickup.
The headstock is different. This headstock style appeared only on the Dana models 

but this headstock is reversed.
The available catalogues do not show any model with a reversed Dana style headstock.
Thanks to Alister for the pictures of his guitar.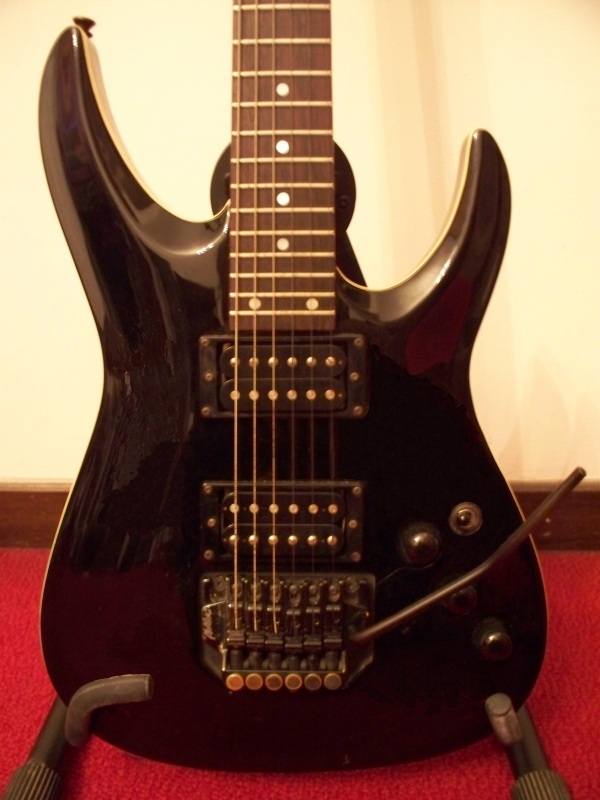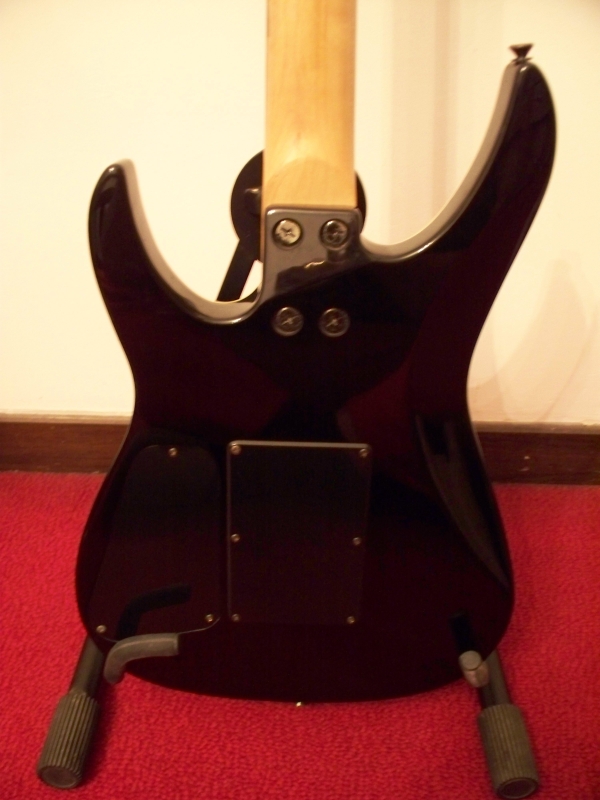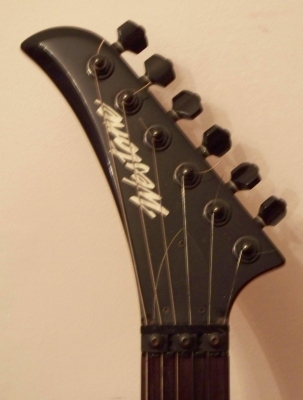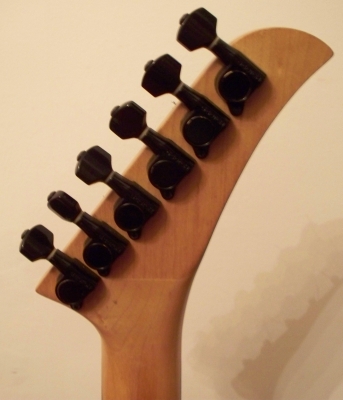 Unknown Model 11
The somewhat archaic trem on this one fits the apparent age of this guitar.
The serial number (E80…) dates it to 1980 (Probably May).
The logo matches that used on the late 70s Matsumoku

acoustics and the other unknown models that are confirmed Matsumoku guitars from 1979/80.
Thanks to Henk Klaassen for these photos of a Stratocaster copy, which appears to be a genuine Matsumoku guitar.