A Brief Westone Timeline
19?? – 1975—Westone instruments made for companies in the German Democratic Republic and Italy-but not by Matsumoku
1975—Matsumoku acquires the rights to the Westone name. Produces acoustic guitars and copies some traditional American electric models (e.g., Les Pauls, Rickenbacker bass)
1979 to 1980—'Testing the waters' Early versions of the Thunder and Rainbow guitars produced
1981—Westone electric and bass models launched
1983 to 1984—SLM becomes USA distributor, some design input for the US market. See USA Development History below.
Feb 1987—Matsumoku closes. Production continues in Korea for two distinct markets:
The USA (St. Louis Music) have Corsairs and Spectrums. The UK & Europe (Produced for FCN Music) had Clippers, Spectrum Series II and some very bad Thunder models
1991—The Westone brand disappears
1997—FCN imports new Korean made guitars (WE1000, We1052) and to try and resurrect some earlier models but have no success
1998—Sid Poole Westones made by Status Graphite in limited numbers
2002—A German company, Musik-Meyer, produces cheap Gibson/Fender copies. (more about them at the Westone Forum HERE)
We think FCN made the BC Rich copies and electro-acoustic models
USA
Development History
This information is taken from a post on the Westone Forum by Tom Presley, designer for Westone, Westone-Electra and other labels, during the innovative days of the Matsumoku period of production. The presentation has been formatted for easier screen reading but it remains copyright Tom Presley and no part of it may be reproduced without his express permission:

new! (March 2018)
eBook! The History of Matsumoku
An in-depth history of Matsumoku researched and written by Japanese writer and Matsumoku.org forum member, TAD, translated from Japanese and released here as an eBook download!
Interviews with Toshi Yamato and Nobuaki Hayashi ("H. Noble"). Rare pictures of the Matsumoku plant, it's people, and of course, guitars!
Matsumoku and SLM years 1981-1991
The Westone Story in words and pictures—The History of Westone
A brief recap of the The Guitar Magazine January 1997:
Westone—Background to a Breakthrough. Covers the years 1981-84:
This is an interesting and informative article from the Music UK Guitar Special 1984 on the origins of the Westone guitar brand and the manufacturing process. Includes exclusive pictures of guitars being assembled at the Matsumoku

factory.
new! (May 2016)
Matsumoto City and the Matsumoku Memorial
A map and historical pictures of the city and factory where Westones and other famous labels were made. Also pictures of the factory site today and the granite memorial commemorating the Mats legacy. Read about it here.
And extending the story to the start of 1985…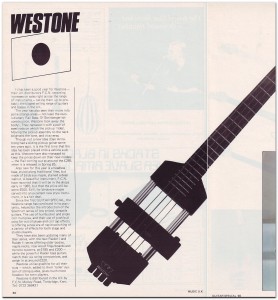 FCN Music, Sid Poole, and Status Graphite
new! (April 2016)
new! (Jan 15'12):
St. Louis Music
Dana Sutcliffe's Association
Read about it, in his own words, HERE