1. Spectrum GT (Magna Bass IV)
Many thanks to Forum member Westbone who posted this helpful procedure May 2011:
He found that an inexpensive MusicMan style pick up purchased from eBay would fit nicely into the original pickup mounting:

Pickup Specs
4 string bridge Musicman style Bass pick up 11.5k P28
Big powerful 4 string Musicman style bass pickup
Ceramic magnets
11.5 Ohms
5-conductor wiring allows for split and phase options
90mm long x 39 wide x 24 high
Screw hole 82mm apart from centers
Pole spacing  58mm
Procedure
"Having found a knackered pickup in a GT bass and the chances of getting a replacement not to good, I decided to try out a few things"
Glue it in. Then cover the poles with satin black paint to finish: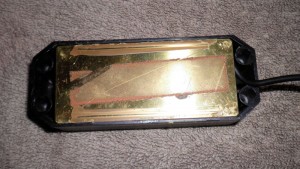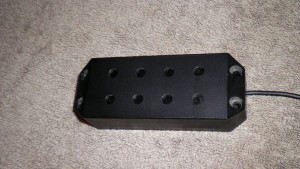 This replacement fits perfectly and is a 4-wired humbucker, so many configurations are possible.
GT Magna Bass Modification
On the GT Wiring Diagram there is a suggestion from David Blair that it would be easy to modify the pickup to full power by adding slugs/poles. Westbone decided to give it a try! Here's the result:
"Seeing as I had the spare slugs from the knackered pickup…"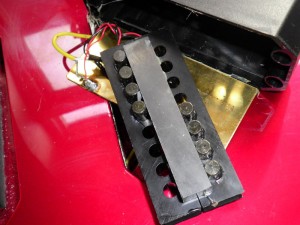 2. ST Bass Pickup Replacement
Thanks to Forum member Frenchy for this mod May 2011
" I found an ST bass last year where the previous owner also changed the pickup. He used an EMG active bass pickup, fits perfectly. The only problem is that he decided to carve out the pickup ring, doing a bad job of it. Would have been best to leave alone…"