Westone (Matsumoku) was known for its attention to detail as well as innovative approaches to small item design. Quality showed in everything they did. Even the basic 3-way toggle switch was rethought, including the tip! For those who are not aware, the original Spectrum tip has a distinctive proprietary conical or barrel shape rather than the standard rounded taper shape of the newer parts.
Modern switch replacements tend to be "open" sided with strong spring and locking action. That gives a solid connection but usually results in a loud click when engaged. Westone used a "boxed in" style with a softer style of spring design. The combination yielded a quieter, smoother operation.
In the following picture, you can see a new modern switch lying on top of the guitar, with its tip replaced by the original Mats tip. And, like those funky Switchmaster knobs, they're near impossible to find. This is a Made in Japan replacement switch so we were able to simply remove the new tip and screw on the original one: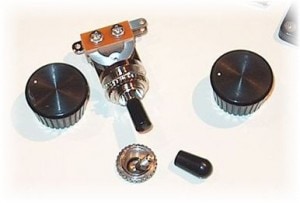 More attention to detail.
Westone used a knurled nut with a collar instead of the more common flat nut (Westone part is on the right):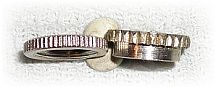 These are new original style 'box' type switches complete with a reproduction replacement tip courtesy of Forum member Westbone:
Contact Westbone via the Westone Forum if you need replacement parts.