Production
Matsumoku, years unknown
Description
The shape is very similar to the early Concord I and the Paduak.
Two versions are listed in the April 1983 US pricelist, both available only in a natural finish, one with a trem at $219 and one without a trem at $195. This made the Leader the cheapest model available at the time.
This model does not appear in the 1982/3 or 1983 catalogues, and only appears in the April 1983 US price list, so it may only have been available in early/mid 1983.
Specs
Single humbucker
volume and tone controls
coil tap switch
standard tremolo or fixed bridge

New
Added October 2012 :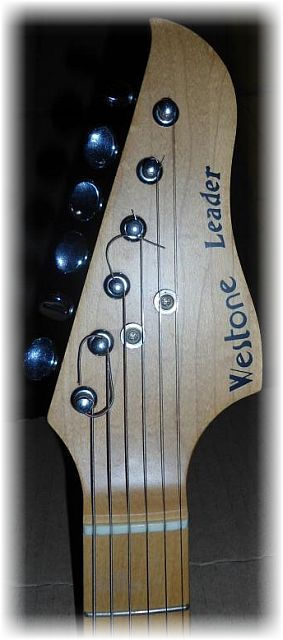 New! Sept 2014 

Courtesy Forum member Gittarasaurus:
What at first appeared to be a 2 pickup model turned out to have been "customized" by a previous owner! The neck humbucker pickup at the time of theses pictures is a Schaller. The selector switch and a second coil cut mini toggle switch have been added, and the tremolo bridge replaced with a hard tail. As far as we know, a two pickup model was not produced by Matsumoku. New! Oct 2016

Courtesy of Forum member Gittarasaurus
Here's another excellent example of the Leader, all original, with a single pickup.
click to enlarge