Production
Matsumoku, Model I: 1981-3 , Model: II 1982-3
New! Sept 2020: Detailed Information on Westone Active Circuit boards CLICK HERE
Paduak I
Two versions of the Paduak I appear in the April 1983 US pricelist, one without a trem at $299.50 and one with a trem at $329.50.
None of the catalogues mention a model with a trem.
Version 1 (1981)
As shown in the 1981 catalogue.
This version (below left) used a bridge that did not appear on any other Westone – the saddles are barrel shaped like the saddles on the Thunder basses, and there are slots in the bottom for quick string changing, which makes it look like it has through body stringing. The version on the right uses more conventional saddles, but the bridge plate does not have any screws in the top corners!
New May 2013! Thanks to Forum member Westbone
for these pictures

(click to enlarge)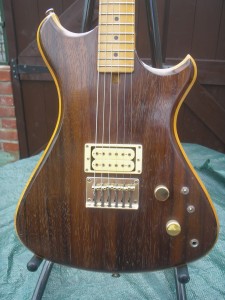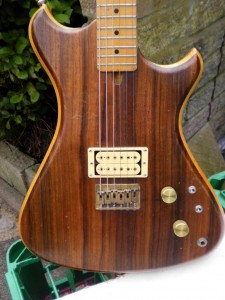 Specs
body: Japanese Ash, top laminate of Paduak
neck: hard Maple, truss rod adjustment at the body end of the neck
fingerboard: Rosewood
Scale 25.5
22 frets
pickup: one Magnet-F 450
controls: master volume, master tone, coil tap and active 'power boost' switches
truss rod adjustment at body end of neck
As shown in the 1982/3 catalogue.
Changes from version 1 –
HF450 pickup
Through body stringing with the same bridge and rear string retainer as used on the Thunder I and IA
Unlike other active Westone guitars, the Paduak I only uses one battery
Paduak skunk stripe on the back of the neck, truss rod adjustment at the headstock


New! April 2, 2013
This beautiful NOS example courtesy of Forum member b c n. Never played, and rescued after 30 years sleeping in the closet!
(Owner's name blurred for privacy)
Click for full size

Paduak II
Description
The Paduak II only appears in the 1982/3 catalogue. Neither model appears in any later catalogues or price lists.
Specs
2 HF450 pickups
controls:- 3 way selector, master volume and 2 PEQ tone controls
heavy duty brass bridge
remaining specifications same as the Paduak I (Version II)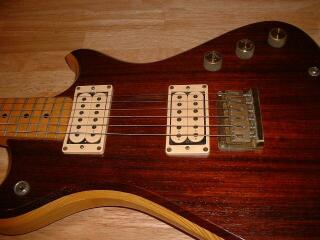 Thanks to Thunduak I for additional info
New! Feb. 2020
Paduak II —Neck-Thru (1981)
Description
This extremely rare, and possibly the only, prototype Paduak model with a neck-thru design was discovered recently for sale on Reverb. Not only is it rare because of the neck-thru, but it is also a humbucker/single coil configuration, something not seen in any other Westone models.
The seller is the original owner and it was purchased in South London, England in early 1985. He advertised this as a 1984 but the serial number, if correct, indicates a 1981 build.
He says the guitar was constantly gigged from 1986 to about 2003, gathering the usual scuffs and dings. It suffered a neck crack in 1999 which was repaired professionally and still barely visible. Seller says it has been stable for 25 years. Also a body crack was repaired in the early 90's.
Original frets are are worn but smooth with low action and excellent playability.
Specs
Originally factory fitted with bridge ceramic humbucker (likely a MMK45) and neck single coil
Original Westone humbucker replaced with DiMarzio in '89 then again in 2012 with current Gibson alnico humbucker
Original brass nut replaced with (bone?) nut around 1998
Selector switch and upper horn strap button non-original, replaced at the same time as the nut
click on an image to enlarge