Production
Matsumoku, 1982 to 1984 (?)
Description
Mahogany body capped with Tiger Flame Maple (Including headstock)
Specs
neck: 3-ply mahogany set (Heelless)
fingerboard: ebony
body, neck and headstock are all bound
twin humbuckers
independent volume, and Westone's own, and as far as we know unique, PEQ tone controls:
Wind it down from the center detent and it's a normal tone control giving apparent bass boost by filtering out the treble
Wind it up from center gives a sound like variable coil tap
There are two (Possibly 3) versions:
Version 1 (1982-3)
Early models have a script logo on the headstock.
Available in Sunrise Sunburst and Antique Cremona
Thanks to Martin (Wallman) for these photos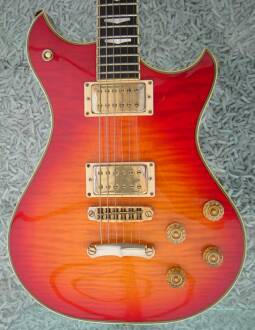 New April 2013!

Thanks to forum member Grogg for the following 2 sets of pictures:
'82 Sunburst (click to enlarge)
'82 Cremona (click to enlarge)
Version 2 (1983-4)
Produced from 1982  until 1983/4 (Appears in the 1982/3 and 1983 catalogues but not in the 1984 catalogue or August 1984 pricelist).
This model may have been reissued in 1986 (Until 1988) as the Prestige II.
Changes:
W 'Bird' logo on the headstock
different lettering style on the truss rod cover
Available in Antique Brown Sunburst or Antique Cremona