Production
St. Louis Music (SLM)- Korean

1990
All Dan Armstrong models are post-Matsumoku guitars
Description
There are two versions of this guitar, Signature I & Signature III.
There is no Dan Armstrong  II model.
Specs: Dan Armstrong Signature I
body: solid Alder
neck: satin Maple
fingerboard: Rosewood
23 frets
pickups: one Maxi and one Mini-bucker
controls: master volume and tone
Floyd Rose licensed trem
black hardware
colours: available in Black (WEA100BK) or White (WEA100WH)
Specs: Dan Armstrong Signature III
As for the I, except for:
pickups: one Rock Monster, one Mini-bucker
bridge:  fixed die cast
colours: available in Black (WEA300BK), Ivory (WEA300IV), White (No model number given)
Both models feature in the 1990 A Sign Of The Times catalogue
Additional Info
David Blair (the original owner of this information) was sent a text file along with the pictures below. It is not known who wrote it or where it came from:
…and a rare Westone prototype model which never went into full production (about 100 or less were assembled).

This is the 2nd headstock design. Originally the headstock was sort of like a Fender mandolin,with a 4+2 tuner configuration. We told Dan it was too much like a Fender but he wasn't too concerned about it. When the model debuted at the NAMM show Ernie Ball claimed a copyrght on the 4+2 headstock(despite Gretsch and others having produced such a design both before and since). This caused a cessation of production. Despite the new design for a 3+3 configuration the project was ultimately scrapped.

Among the unique features are humbucking pickups of Dan'Zzs own design which he patented (note that they are of different sizes), and a 23 fret fingerboard (essential to Dans phlosophy of the rythym PU poles being right at the harmonic point of the 24th fret octave); also a unique upper bout crested contoured body shape ( a couple of years after this, St. Louis Music made guitars using the remaining bodies but they were not countoured and so didn't look very good). This guitar is wonderful with a variety of unique tones both single and double coil .
The black model shows the 4+2 headstock design, the white one has the revised 3+3 headstock.
These pictures are supposed to be of prototypes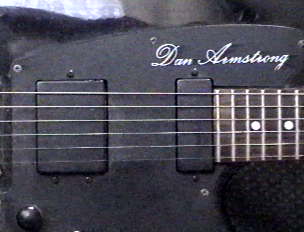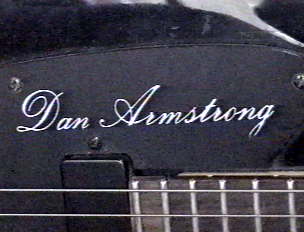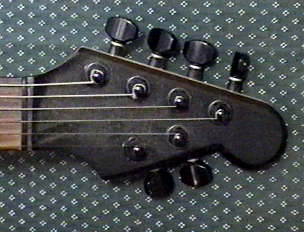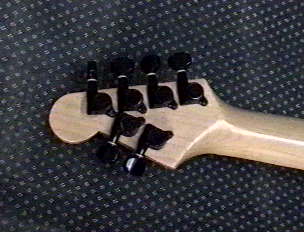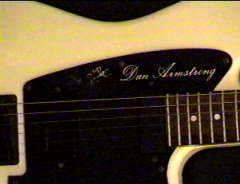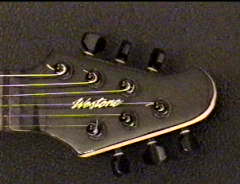 Update February 2014:
The following pictures and Demo Video courtesy of Forum member notnumber.
(Click to enlarge image)